Serena Williams is on the cover of Sports Illustrated as their "Sportsperson of the Year".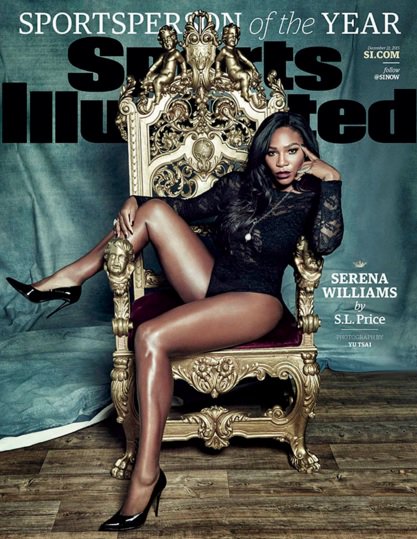 Looking sexy, sultry, and in great shape, Serena destroys many stereotypes about women, and black women in sports.
Sports Illustrated announced Serena Williams as its sportsperson of the year on Monday, and some people seem to be upset about it.
They wanted  American Pharoah. American Pharoah  is not just any horse. He is horse racing's first Triple Crown winner in 37 years. And he won the magazine's readers' poll for the award.
However…Sports Illustrated has not awarded the honor to anything but a person since the inception of the magazine in 1954, including great horses like Secretariat, Seattle Slew, or Affirmed..
Williams won 53 of the 56 matches she played this year, including three of the four Grand Slam events, and held the No. 1 spot in the WTA rankings every week.
Sports Illustrated's Christian Stone pointed out that the 34-year-old Williams was also recognized for career achievements, which include 21 Grand Slam titles, as well as something that goes beyond sports.

"We are honoring Serena Williams too for reasons that hang in the grayer, less comfortable ether, where issues such as race and femininity collide with the games," Stone wrote. "Race was used as a cudgel against Williams at Indian Wells in 2001, and she returned the blow with a 14-year self-exile from the tournament. She returned to Indian Wells in '15, a conciliator seeking to raise the level of discourse about hard questions, the hardest ones, really."
Past recipients of the award include Michael Jordan, Muhammad Ali and Billie Jean King, while the last individual female athlete chosen was track star Mary Decker in 1983.
GO Serena! You are looking good, but I am not sure what the picture has to do with tennis….