A large majority of Americans would agree that Michelle Obama has set the Gold Standard for First Ladies. Laura Bush, Hillary Clinton, Barbara Bush, Nancy Reagan have all pretty much followed in the footsteps of Lady Bird Johnson, with programs to improve education, and expand parks. In the case of Hillary, Barbara, Michelle, and Nancy they also to an active role in advising their Presidential husbands.
Like their husband's politics or not, each of these women gained respect around the world.
So,,,If the Drumph wins, who is our next First Lady?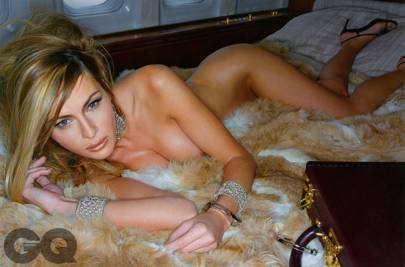 This is a photograph of Trump's current wife who did nude photo spreads for GQ Magazine.
Not very First Ladylike. And apparently some of Ted Cruz's staff have been sending the pictures out as part of their anti-Drumph material.