Former NY Rep Anthony Weiner, a guy who a few years ago was a fast rising politico in the Democrat Party looking at a Senate run, and even possibly a VP slot before news of a "Sexting" scandal, and adultery surfaced…
Has done it again.
Weiner is married to Hilary Clinton's good friend and top aide Huma Abedin,
Looks like Weiner's inability to keep his pants on means the end to that marriage, and any possibility of a future career as a politician.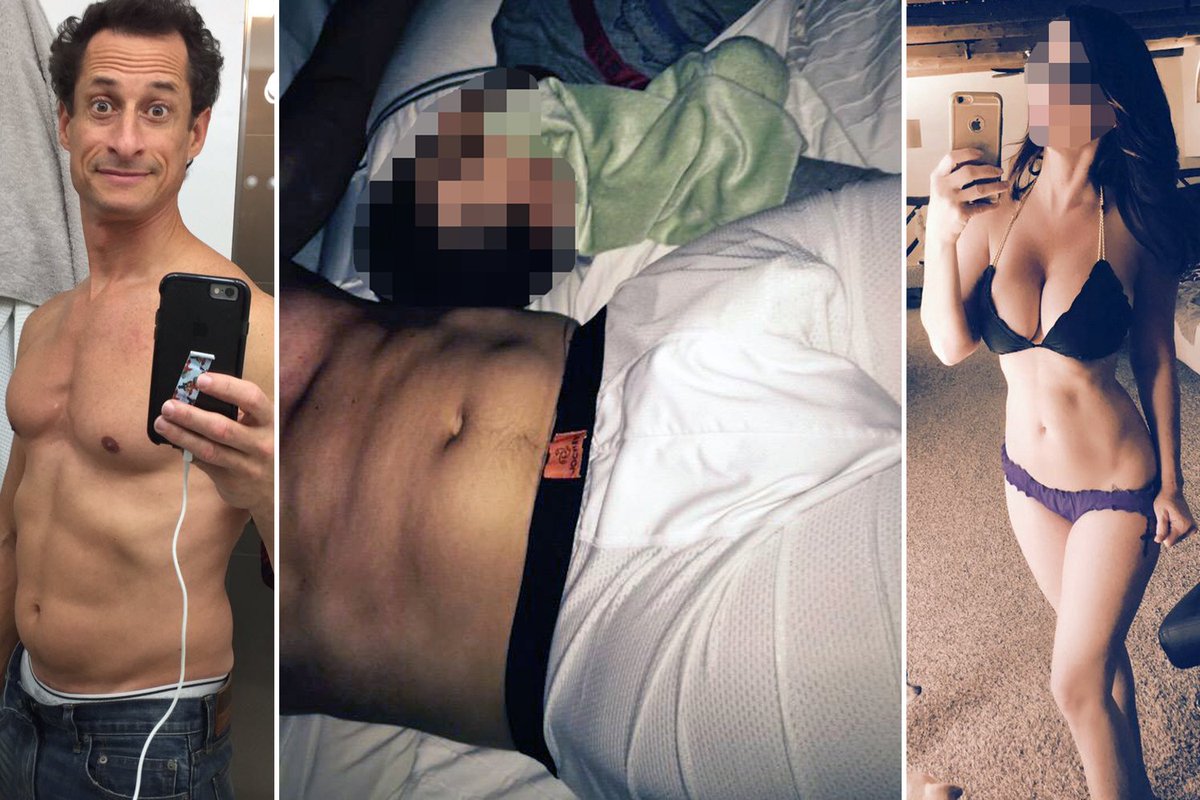 Former Congressman Anthony Weiner begins the documentary "Weiner," released earlier this year, after mumbling about the fact that he's even participating in such a film, by directly addressing the camera and calmly stating, "I guess the punch line is true about me. I did the things, but I did a lot of other things." That may be true, but Weiner has now guaranteed that his prophetic name will be forever synonymous with his sexting scandals, given his most recent round of images, sent to a "busty brunette" and exposed in today's New York Post.
As Jamieson Webster argued convincingly in The Guardian, "Anthony Weiner wanted to be caught, and caught and caught. It isn't enough that he sent out the pictures himself in 2011. The latest rendition is revealing on a whole number of levels if we look closely." After all, this isn't the first or the second or the third time this has happened — or that he's been caught. Who knows how many incidents of sexting Weiner has engaged in, whether out of lust, boredom, self-sabotage, a power trip or any other number of possibilities?

It seems utterly bizarre that he would continue to do this so often, knowing that he could so easily lose any modicum of political respect that he's built back up or any semblance of a career. According to CNN, Weiner has been put on "indefinite leave" by TV station NY1, for which he had been a contributor.

And, of course, Weiner was also risking the demise of his marriage, which has now happened. Huma Abedin, a top adviser to Hillary Clinton and vice chair of her current presidential campaign, announced this afternoon that she was separating from her husband. I don't think it's a stretch to think that she had decided long ago that one more scandal would be the one that went too far. Whether this was ever explicitly stated, Weiner had to know that, especially in the midst of a heated election year, the last thing Abedin would want was yet another return to what is likely one of the worst things she has ever faced in her personal life.

The New York Times categorized the documentary, in addition to being about Weiner's repeated political rise and fall, as also being about "a portrait of a marriage in disarray," describing Abedin as "present in much of the film, ready to stand by her man but clearly worried. Visibly shaken by the latest revelations of sexting, she doesn't verbalize her anger, but you feel the tension of her crossed arms." Though it was, of course, Abedin's decision to not only stay with Weiner but also to join him when he campaigned for mayor of New York, it's hard to not feel sorry for her now that she's being cast back into the spotlight, linked to her boss by her job and their shared status as scorned women.

Given all that was at stake — namely, his marriage and intact family unit, his career and reputation — what made Weiner send what The New York Post described in its headline as "baby-sitting — Anthony Weiner-style," given that his bare torso and the outline of his crotch are visible right next to his son in an early-morning July 2015 image? It's impossible to know his exact motivation, but one thing is clear: If there were any way to make himself look worse, Weiner has now managed to do so, by involving his child in such a risqué and inappropriate photo and series of messages. As Webster noted, since Weiner's specialty isn't dick pics of the naked variety but rather crotch shots where his bulge is quite visible beneath his clothes, these images don't need to be censored by media outlets the same way ones of his nude genitals would, lending further credence to his desire to be exposed.