Black folks have been the most reliable voters for the Democrat Party the last 50 years. But the Party has delivered very little in return for that loyalty. That lack of delivery has led to voter apathy, and is the leading culprit in Hillary losing to the Chumph.
We, as a people are now under existential threat from Trump and his white wing followers – but the Party and it's policies are being driven by the interests of white women.
Black voters just delivered two major victories for the Democrats in Virginia and Alabama. That vote wasn't as much for Democrat candidates, as against the Chumph white supremacists.
If elected Democrats don't find a way to head off the Chumph…They are going to lose again in 2018 and 2020.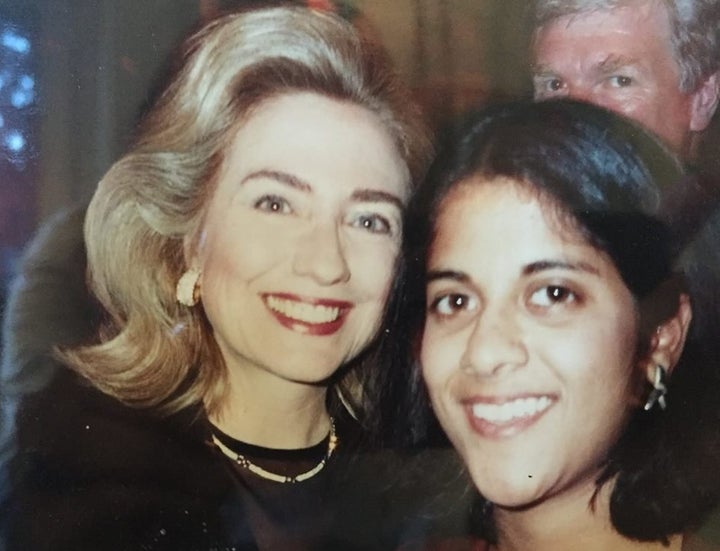 I realize now that the love has been one-sided.
You were the love of my life. I fell in love early and hard. I have been the kind of party loyalist ― the kind of sappy, soapbox-y, clichéd devotee ― that makes Fox News moonwalk with glee.

The first vote I ever cast, at 18, was for Bill Clinton. The last vote I cast was for his wife, Hillary. My adoration for Hillary bordered on mania. In college, I named my ficus plant after her. Twenty years later, I canvassed, held fundraisers, dragged my 8-year-old daughter door to door, proudly wore HRC's face on T-shirts and housed campaign volunteers in my home.

I loved you so much that I cried each time I voted. Thinking about the women who died fighting for my right to vote did it every time. I cried when I voted for Bill. For Barack Obama. I wept when I voted for Hillary. You've been that kind of mad love to me.

And now I want to break up.

I realize now that the love has been one-sided, unrequited. You've never recognized me, as a brown woman. You've taken my love, my money, my tokenism, with nary anything in return. You married the white woman and hooked up with me on the side.

Black Lives Matter is a second ― or third ― thought. Where is your outrage over the national epidemic of police brutality against black people? You continue to call angry white men who commit mass murder "lone wolves." But if someone who looks like me screams "Allah" and fires a gun, it's "terrorism." And you wonder why angry white men are gunning down innocent brown men at bars, in their yards, on the street.

For all your talk about Dreamers, there's been little action. You don't seem to give a crap about kids of color who will be kicked out of this country, the only country they know. What if all those Dreamers were white? I suspect there'd be a very different outcome.

You spend a lot of time and energy wooing white voters, while giving short shrift to voters of colors and assuming we'll always show up for you.

To be fair, there's no reason for you to assume otherwise. We always show up for you. Take, for example, the special election in Alabama on Tuesday. Had black people not shown up, an accused child molester would be our newest senator.
What will Doug Jones do for the black folks who put him in the Senate? If history is any indication, very little.

This past year, I held and attended numerous fundraisers for your candidates. I donated money every time I was asked. I marched: for women, for children, for reproductive rights, for science. I traveled across the country for the March for Women in Washington, D.C. It was there that I got the first hint that you weren't that into me. The giveaway? The sea of white women in pink hats with brown and black women dotting the waves like debris. I let it slide but I kept my eyes and ears open.
My fellow brown and black sisters started to notice, too — and the chatter began, in whispered hushes at first, then loud and clear. You are a party of white feminists. Of white feminism, the kind of feminism that focuses on the struggles of white women. It was the first time I'd heard the term, most likely because self-awareness is hard and I was a brown woman trapped in a white feminist's world.

But then I woke up. I saw you with clear eyes for the first time.
For every Kamala Harris and Pramila Jayapal sticking their brown and black necks out for me, there are dozens of white female Democrats who want me to shut my trap.
Your advocacy for reproductive rights zeros in on wealthy white women. Women of color and other marginalized women get sidelined. The gender pay gap is worse for black and Latina women than it is for white women. Women of color make up 64 percent of women in U.S. jails. Why isn't the Democratic Party talking about this and trying to fix it?

My own "liberal" white congresswoman in Colorado has given me a hint as to why.

At the congresswoman's town hall in February, Neeti Pawar, the brown female founder of the South Asian Bar Association of Colorado, was one of the only people of color in a room of nearly a thousand. She asked about immigration and DACA protections. The congresswoman scoffed. When Pawar pressed on, she was told to remain silent or she'd be asked to leave. During a follow-up, staffers told Pawar that civil rights weren't the representative's "issue." Brown and black people don't have the luxury of sidelining civil rights. It's life and death for us.

And it didn't stop there.

I was organizing a fundraiser for a U.S. senator earlier this month, and had planned to use the opportunity to highlight women of color by having black women introduce him. The congresswoman's staff caught wind of the event and asked if she could introduce the senator. I explained my position but invited her to come as a guest. No response. When pressed on her stance on racial inclusion, her staff didn't respond to me directly but tattled on me to the white women co-hosting the event.

I know there are some good ones among you. But for every Kamala Harris, Maxine Waters and Pramila Jayapal sticking their brown and black necks out for me, there are dozens of white female Democrats who want me to shut my trap, and say please and thank you. I should be grateful for scraps while white women enjoy a proper marriage with you.

I'm done with all that. And if you don't want to lose more women like me, there are a few basic things you can do.

Pay attention to the reproductive health of women of color and other marginalized women. Do something, anything, to protect Dreamers. Or, if you're really feeling bold, move forward on some form of reparations for black people.

Finally, mentor young people of color to run for office. Campaign for brown and black folks. Raise money for them. Show up for them. I'd come running back to you with open arms if you did even a few of these things.
In the meantime, I'll be on the sidelines waiting, watching, hoping, praying. You broke my heart.