If you saw my conversation with my board curmudgeon,  you would have seen I worked in the Halls of Congress for some years as part of my work for a computer manufacturer in my early career. So I am aware of the extent to which Congress excludes themselves from compliance with certain laws (like EEO) and covers up malfeasance.
If they are digging up Conyer's dirt…
There is going to be hell on the Hill shortly – Because beside some of these guys, Conyers is a relative saint.
"When you make private settlements, it doesn't warn the next woman or the next person going into that situation."
Michigan Rep. John Conyers, a Democrat and the longest-serving member of the House of Representatives, settled a wrongful dismissal complaint in 2015 with a former employee who alleged she was fired because she would not "succumb to [his] sexual advances."

Documents from the complaint obtained by BuzzFeed News include four signed affidavits, three of which are notarized, from former staff members who allege that Conyers, the ranking Democrat on the powerful House Judiciary Committee, repeatedly made sexual advances to female staff that included requests for sex acts, contacting and transporting other women with whom they believed Conyers was having affairs, caressing their hands sexually, and rubbing their legs and backs in public. Four people involved with the case verified the documents are authentic.

Conyers confirmed he made the settlement in a statement Tuesday afternoon, hours after this story was published, but said that he "vehemently denied" the claims of sexual harassment at the time and continues to do so.

And the documents also reveal the secret mechanism by which Congress has kept an unknown number of sexual harassment allegations secret: a grinding, closely held process that left the alleged victim feeling, she told BuzzFeed News, that she had no option other than to stay quiet and accept a settlement offered to her.

"I was basically blackballed. There was nowhere I could go," she said in a phone interview. BuzzFeed News is withholding the woman's name at her request because she said she fears retribution.

Last week the Washington Post reported that Congress's Office of Compliance paid out $17 million for 264 settlements with federal employees over 20 years for various violations, including sexual harassment. The Conyers documents, however, give a glimpse into the inner workings of the office, which has for decades concealed episodes of sexual abuse by powerful political figures.

The woman who settled with Conyers launched the complaint with the Office of Compliance in 2014, alleging she was fired for refusing his sexual advances, and ended up facing a daunting process that ended with a confidentiality agreement in exchange for a settlement of more than $27,000. Her settlement, however, came from Conyers' office budget rather than the designated fund for settlements.

Congress has no human resources department. Instead, congressional employees have 180 days to report a sexual harassment incident to the Office of Compliance, which then leads to a lengthy process that involves counseling and mediation, and requires the signing of a confidentiality agreement before a complaint can go forward.

After this an employee can choose to take the matter to federal district court, but another avenue is available: an administrative hearing, after which a negotiation and settlement may follow.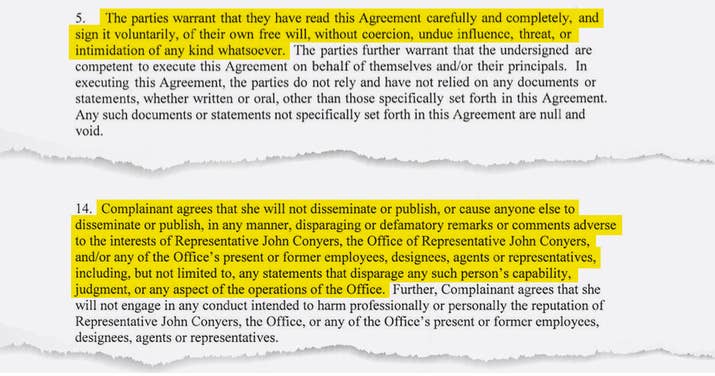 Some members of Congress have raised major concerns with the current system over the years, but the calls for an overhaul have grown louder in the post-Weinstein era. Members have argued that 90 days is too long to make a person continue working in the same environment with their harasser; that interns and fellows should be eligible to pursue complaints through this process; and that it is unfair for a victim to have to pay for legal representation while the office of the harasser is represented for free by the House's counsel.

In this case, one of Conyers' former employees was offered a settlement, in exchange for her silence, that would be paid out of Conyers' taxpayer-funded office budget. His office would "rehire" the woman as a "temporary employee" despite her being directed not to come into the office or do any actual work, according to the document. The complainant would receive a total payment of $27,111.75 over the three months, after which point she would be removed from the payroll, according to the document.
The draft agreement viewed by BuzzFeed News was unsigned, but congressional employment records match the timing and amounts outlined in the document. The woman left the office and never went public with her story.

The process was "disgusting," said Matthew Peterson, who worked as a law clerk representing the complainant, and who listed as a signatory to some of the documents.

"It is a designed cover-up," said Peterson, who declined to discuss details of the case but agreed to characterize it in general terms. "You feel like they were betrayed by their government just for coming forward. It's like being abused twice."

Other lawyers named as representing the accuser could not be reached for comment. The Office of Compliance did not confirm or deny that it had dealt with the case.

"Pursuant to the Congressional Accountability Act, the OOC cannot comment on whether matters have or have not been filed with the office," Laura Cech, publications and outreach manager of the Office of Compliance, told BuzzFeed News in an email when asked to comment on this case.

Two staffers alleged in their signed affidavits that Conyers used congressional resources to fly in women they believed he was having affairs with. Another said she was tasked with driving women to and from Conyers' apartment and hotel rooms.

Rep. Conyers did not admit fault as part of the settlement. His office did not respond to multiple requests for comment on Monday, but released a public statement on the matter Tuesday afternoon.

The documents were first provided to BuzzFeed News by Mike Cernovich, the men's rights figure turned pro-Trump media activist who propagated a number of false conspiracy theories including the "Pizzagate" conspiracy. Cernovich said he gave the documents to BuzzFeed News for vetting and further reporting, and because he said if he published them himself, Democrats and congressional leaders would "try to discredit the story by attacking the messenger." He provided them without conditions. BuzzFeed News independently confirmed the authenticity of the documents with four people directly involved with the case, including the accuser.

In her complaint, the former employee said Conyers repeatedly asked her for sexual favors and often asked her to join him in a hotel room. On one occasion, she alleges that Conyers asked her to work out of his room for the evening, but when she arrived the congressman started talking about his sexual desires. She alleged he then told her she needed to "touch it," in reference to his penis, or find him a woman who would meet his sexual demands.

She alleged Conyers made her work nights, evenings, and holidays to keep him company.

In another incident, the former employee alleged the congressman insisted she stay in his room while they traveled together for a fundraising event. When she told him that she would not stay with him, she alleged he told her to "just cuddle up with me and caress me before you go."

"Rep. Conyers strongly postulated that the performing of personal service or favors would be looked upon favorably and lead to salary increases or promotions," the former employee said in the documents.

Three other staff members provided affidavits submitted to the Office Of Compliance that outlined a pattern of behavior from Conyers that included touching the woman in a sexual manner and growing angry when she brought her husband around.

One affidavit from a former female employee states that she was tasked with flying in women for the congressman. "One of my duties while working for Rep. Conyers was to keep a list of women that I assumed he was having affairs with and call them at his request and, if necessary, have them flown in using Congressional resources," said her affidavit. (A second staffer alleged in an interview that Conyers used taxpayer resources to fly women to him.)

The employee said in her affidavit that Conyers also made sexual advances toward her: "I was driving the Congressman in my personal car and was resting my hand on the stick shift. Rep. Conyers reached over and began to caress my hand in a sexual manner."

The woman said she told Conyers she was married and not interested in pursuing a sexual relationship, according to the affidavit. She said she was told many times by constituents that it was well-known that Conyers had sexual relationships with his staff, and said she and other female staffers felt this undermined their credibility.

"I am personally aware of several women who have experienced the same or similar sexual advances made towards them by Rep[.] John Conyers," she said in her affidavit.

A male employee wrote that he witnessed Rep. Conyers rub the legs and other body parts of the complainant "in what appeared to be a sexual manner" and saw the congressman rub and touch other women "in an inappropriate manner." The employee said he confronted Conyers about this behavior.

"Rep. Conyers said he needed to be 'more careful' because bad publicity would not be helpful as he runs for re-election. He ended the conversation with me by saying he would 'work on' his behavior," the male staffer said in his affidavit.

The male employee said that in 2011 Conyers complained a female staffer was "too old" and said he wanted to let her go. The employee said he set up a meeting in December 2011 to discuss "mistreatment of staff and his misuse of federal resources." The affidavit says that Conyers "agreed that he would work on making improvements as long as I worked directly with him and stopped writing memos and emails about concerns."

Another female employee also attested that she witnessed Conyer's advances, and said she was asked to transport women to him. "I was asked on multiple occasions to pick up women and bring them to Mr. Conyers['] apartment, hotel rooms, etc."

BuzzFeed News reached out to several former Conyers staffers, all of whom did not want to speak on the record. One former staffer, who did not want to be named, said she was frustrated by the secretive complaint process.

"I don't think any allegations should be buried…and that's for anyone, not just for this particular office, because it doesn't really allow other people to see who these individuals are," said the former staffer. "When you make private settlements, it doesn't warn the next woman or the next person going into that situation."

Another staffer said Conyers' reputation made people fearful to speak out against him. Aside from being the longest-serving House member and the ranking member of a powerful committee, Conyers is a civil rights icon. He was lauded by Martin Luther King Jr. and is a founding member of the Congressional Black Caucus.

"Your story won't do shit to him," said the staffer. "He's untouchable."

In a statement to BuzzFeed News, House Democratic Leader Nancy Pelosi said she was not aware of the settlement.

"The current process includes the signing of non-disclosure agreements by the parties involved. Congresswoman Jackie Speier has introduced legislation that will provide much-needed transparency on these agreements and make other critical reforms," Pelosi said in the statement. "I strongly support her efforts."…