A lot of noise blaming Bill Clinton for the draconian drug law he supported passing in 1993. That is a bit of  a false canard for a number of reasons. Fist is the legislation passed by Congress only affected Federal Law. Than means that it didn't apply to the states. A number of state passed their own draconian drug laws, but they passed those in their own legislatures. Of the 1.5 million Americans held in correctional institutions (not jails) and Federal Prisons, about 210,000 are Federal Prisoners. That is about 14%. If you add those prisoners held in Jails, the number of incarcerated is 2.1 million, the Federal part of that shrinks to 10%. The States with the highest incarceration rates?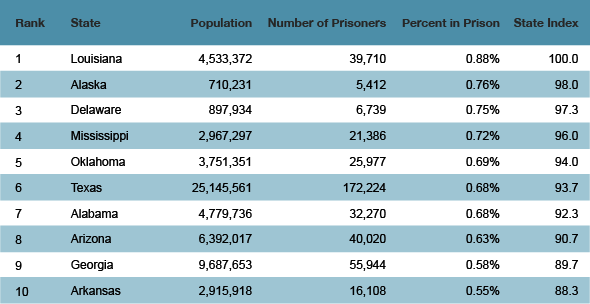 9 of 10 are in the "Red Zone"run by Republicans. 27 States incarcerate 80% of the prisoners in the US. Sounds bad – but 27 States have 80% of the population. Fewer people live in Wyoming than in Washington, DC.
Second – a lot of these laws, particularly in the Major Cities, were passed at the behest of black citizens and organizations in response to the soaring crime rate driven by the crack epidemic.
In a prolonged exchange Thursday afternoon, former President Bill Clinton forcefully defended his 1994 crime bill to Black Lives Matter protesters in the crowd at a Hillary Clinton campaign event.

He said the bill lowered the country's crime rate, which benefited African-Americans, achieved bipartisan support, and diversified the police force. He then addressed a protester's sign, saying:

"I don't know how you would characterize the gang leaders who got 13-year-old kids hopped up on crack and sent them out onto the street to murder other African-American children," Clinton said, addressing a protester who appeared to interrupt him repeatedly. "Maybe you thought they were good citizens …. You are defending the people who kill the lives you say matter. Tell the truth. You are defending the people who cause young people to go out and take guns."

The Clintons have faced criticism from BLM activists and younger black voters for months now over that bill, which they say put an unfairly high number of black Americans in prison for nonviolent offenses.

After a protester interrupted him repeatedly, Bill Clinton began to take on that critique directly, making the claim that his crime bill was being given a bad rap.

"Here's what happened," Clinton said. "Let's just tell the whole story."

"I had an assault weapons ban in it [the crime bill]. I had money for inner-city kids, for out of school activities. We had 110,000 police officers so we could keep people on the street, not in these military vehicles, and the police would look like the people they were policing. We did all that. And [Joe] Biden [then senator and chair of the Senate Judiciary Committee] said, you can't pass this bill, the Republicans will kill it, if you don't put more sentencing in it."

"I talked to a lot of African-American groups," Clinton continued. "They thought black lives matter. They said take this bill, because our kids are being shot in the street by gangs. We have 13-year-old kids planning their own funerals."

Throughout the spirited defense of his policy, Clinton continued to be interrupted, and he repeatedly seemed to single out one protester.

"She doesn't wanna hear any of that," Clinton said to the protester. "You know what else she doesn't want to hear? Because of that bill, we have a 25-year low in crime, a 33-year low in murder rate. And because of that and the background check law, we had a 46-year low in the deaths of people by gun violence, and who do you think those lives were? That mattered? Whose lives were saved that mattered?"

For several minutes, the discussion of the crime bill, Clinton's exchange with the protester and the crowd's attempts to yell and chant over her were missing one thing: any mention of Hillary Clinton, the one Clinton running for president this election cycle.