Lot of bad history in America from this type of person….
A Texas woman who lied about being raped by three masked black men was indicted on three felony charges including two third-degree felony counts of tampering with physical evidence and a third-degree felony count of tampering with a government record, the Root reports.

On March 21, Breana Harmon Talbott—who was 18 at the time—ran into a Texas church in just her bra, a T-shirt and underwear, and claimed she had been raped by two masked men while a third held her down. She was taken to local hospital where it was determined she showed no signs of forced penetration. Harmon eventually admitted her injuries were self-inflicted.
In a statement released the following day, Denison County Police called Harmon's accusation a "hoax."

"The so-called victim in the case confessed to the hoax last evening (March 21) to a member of the investigative team working the case," Denison Police Chief Jay Burch said. "Talbott's hoax was also insulting to our community and especially offensive to the African-American community due to her description of the so-called suspects in her hoax."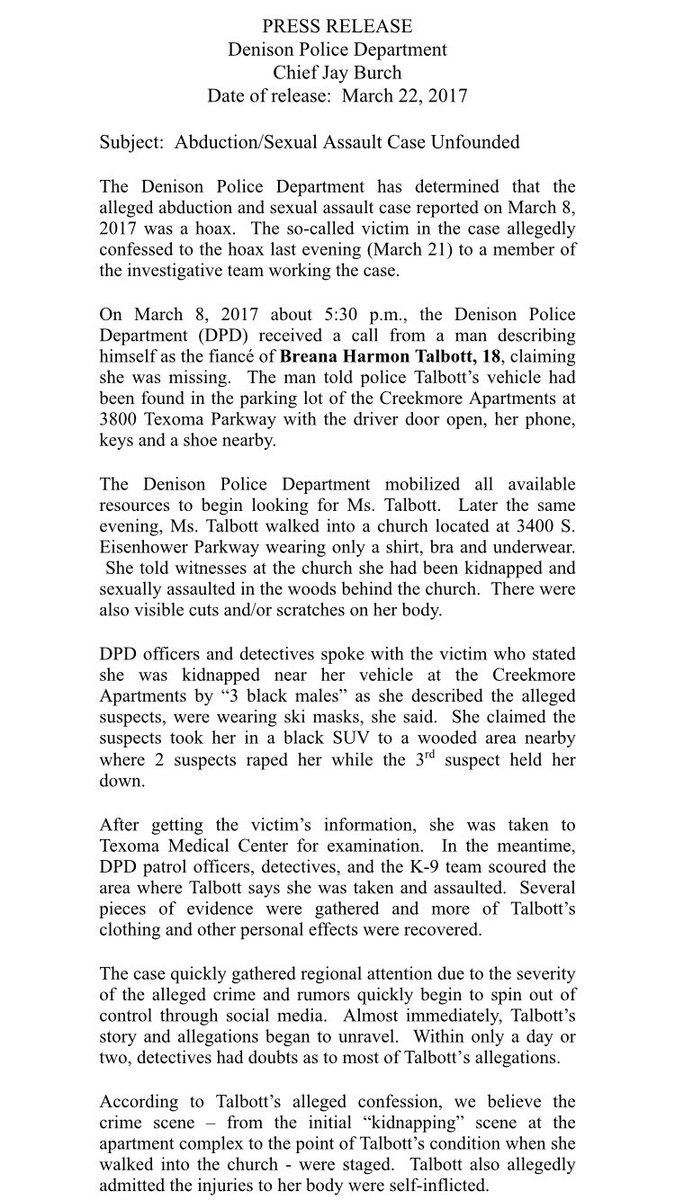 "[Breanna Harmon Talbott] was originally arrested for the misdemeanor offense of false report to a peace officer," Grayson County District Attorney Joe Brown said Wednesday. "However, the more we have looked at what happened in this case, and considered the harm it caused, and certainly could have caused, we believe what she did fits these higher charges. What she did was very serious, and we believe it was felony conduct."

If convicted, Harmon faces up to 10 years in prison and a $10,000 fine for each felony. The Denison Police Department is also seeking $8,000 in restitution.