After over a century of discrimination and destruction, the nation's black farmers are making a slow comeback. Destroyed by a combination of denial of Agricultural Loans by the Government so they could modernize, predatory zoning and land theft, and land covenants which in some areas kept them from eve being able to expand enough to be competitive – the current trend reverses that started in the Great Migration.
We are at the dawn of Urban Farming, where deserted factory buildings can be converted to support 4 story tall vertical farming racks which produce anything from lettuce to carrots. First heard about this being done in Detroit several years ago, and since then it is gradually expanding across the northeastern US urban landscape. The problem with this for prospective black farmers is the high initial costs being a barrier to entry. Setup costs run from $90-200 per square foot, and even with production per square foot being 4-8 times greater than old style farming, it still takes a while (years) to amortize that.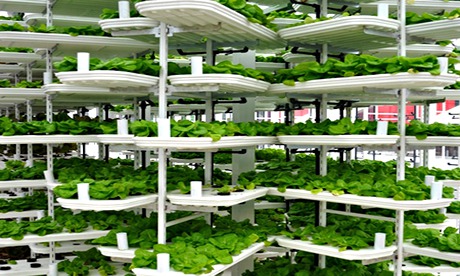 The comeback of black farmers is contrary to a landscape where mega-corporate farming has become the norm. By focusing on organic and naturally grown crops, and bypassing the retail middlemen, farming is profitable again. The market desire for "organic", not tainted by pesticides or growth hormone food is also a driver. Factory farms at this point cannot meet that need. Fishing is also becoming increasingly farming, and while corporate level farms concentrate on mass production of high demand product like salmon and catfish, the ability to produce contaminant free shellfish is a fast growing industry dominated by small players because the cost to entry is fairly low.
The folks they discuss in this article are very small operators. In my part of the world I am more used to black farmers who have 40 or more acres under till, although they are using the traditional farming methods.
These Black farmers don't stop at healthy food. They're healing trauma, instilling collective values, and changing the way their communities think about the land.
A few years ago, while clearing dried broccoli stalks from the tired soil of our land at Soul Fire Farm in upstate New York, I received a cold call from Boston. On the other end was a Black woman, unknown to me, who wanted to share her story of trying to make it as a farmer.
Through tears, she explained the discrimination and obstacles she faced in a training program she'd joined, as well as in gaining access to land and credit. She wondered whether Black farming was destined for extinction. She said she wanted to hear the voice of another African-heritage farmer so that she could believe "it was possible" and sustain hope.

The challenges she encountered are not new. For decades, the U.S. Department of Agriculture discriminated against Black farmers,excluding them from farm loans and assistance. Meanwhile, racist violence in the South targeted land-owning Black farmers, whose very existence threatened the sharecropping system. These factors led to the loss of about 14 million acres of Black-owned rural land—an area nearly the size of West Virginia.

In 1982, the U.S. Commission on Civil Rights extrapolated the statistics on land loss and predicted the extinction of the Black farmer by the year 2000.

They were wrong. While the situation is still dire, with Black farmers comprising only about 1 percent of the industry, we have not disappeared. After more than a century of decline, the number of Black farmers is on the rise.

These farmers are not just growing food, either. The ones you'll meet here rely on survival strategies inherited from their ancestors, such as collectivism and commitment to social change. They infuse popular education, activism, and collective ownership into their work.

And about that woman who called me from Boston? Years after we first spoke, I called her back. Turns out, she is still at it.

About 80 miles southeast of Baltimore, Black Dirt leases 2 acres that long have been home to the Black freedom struggle. Harriet Tubman once rescued her parents and nine other people from enslavement in this place, which was one of the first stops on the Underground Railroad.

The 10 farming-collective members who work here today revere Tubman's example and work to continue her legacy of revolutionary social change. In addition to growing natural food for markets in D.C., Baltimore, and Philadelphia, they host hundreds of people each year for activist training programs. They continue the farming practices of their ancestors, such as "going through together," a southern Black practice of working collectively in neighbors' plots and sharing the harvest. They are also part of the North Carolina-based Seed Keepers Collective, and focus on preserving seeds of the African diaspora, including millet, sorghum, cotton, and sweet potatoes.

"It's like jazz music in a sense," Snipstal explains, referring to Black Dirt's collaborations with like-minded farmers around the country. "We are always riffing off each other, even if we don't tell one another." …Read Other Stories of Black Farmers Here...