Amazing story! I don't agree the Fox Lake Officer shot himself for any other reason except getting exposed for criminal activity though. Most of the lying is coming from the Faux News and associated right wing press – as well as some heads of Police Unions.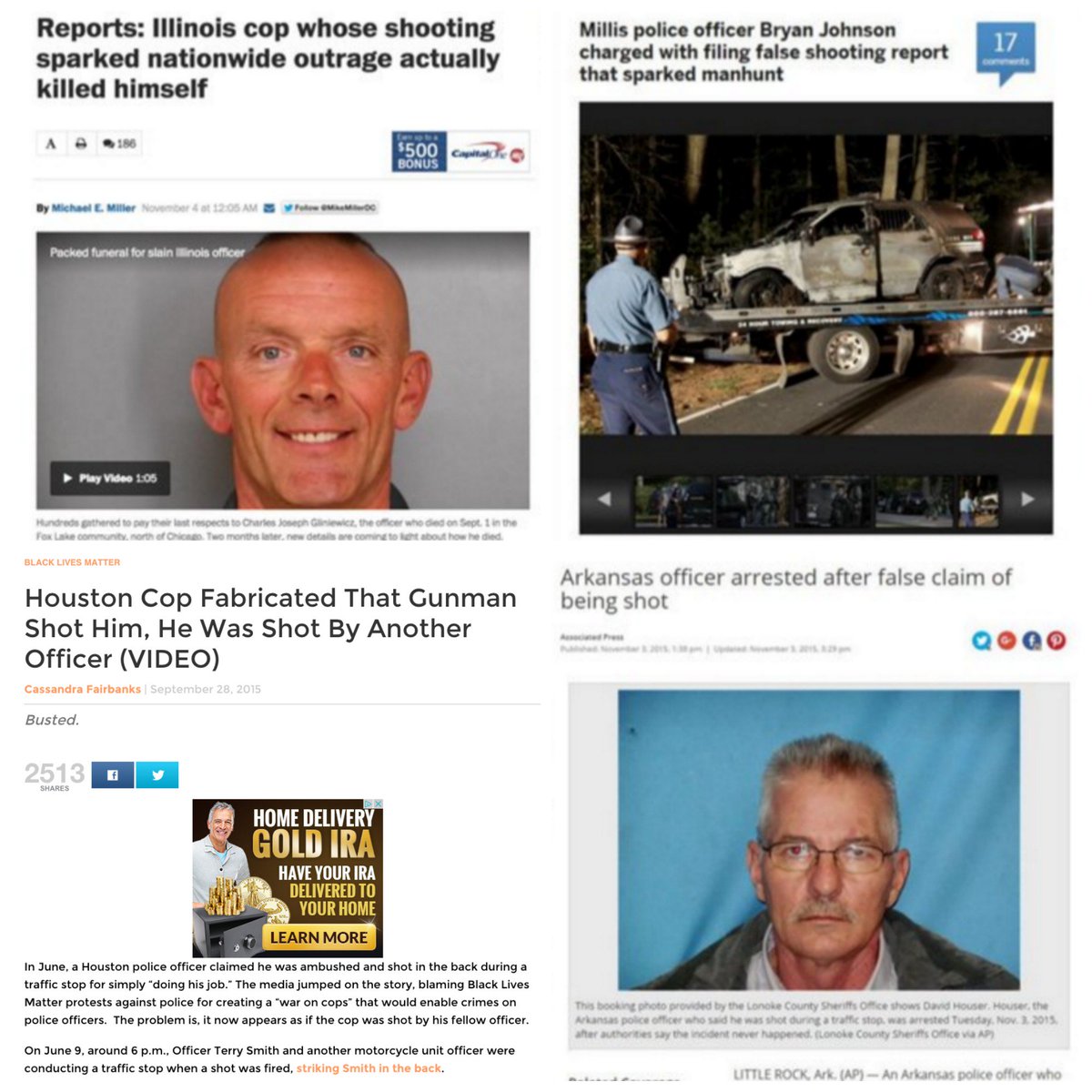 Four cops from four different departments lied about shootings they were responsible for, and their lies were used by media outlets and pro-police groups to implicate Black Lives Matter protesters each time. It turns out that in all four cases, the officers involved either shot themselves, shot their own car, or were shot by a fellow officer.

Officer Terry Smith

In June, it was reported that veteran police officer Terry Smith was shot in the back by an unknown assailant, and Black Lives Matter protesters were implicated. Then, in September, US Uncut published an article showing that the entire story was fabricated.

Smith and his partner Gregory Hudson claimed they saw a champagne-colored Buick in the parking lot prior to the shooting, which led to a bogus manhunt for the car. Now, the Houston Police Department believes that it was actually Hudson who shot Smith. Smith was put on desk duty September 2nd, but no disciplinary action was taken against him.

Officer Bryan Johnson

In September, local media in the Boston area reported the following incident involving police officer Bryan Johnson:

At a news conference Wednesday night, Millis police said a cruiser was traveling on Forest Road when an officer noticed a red or maroon pickup truck traveling in the opposite direction, and when the two vehicles met, the driver opened fire on the police cruiser. The officer spun around and, in an attempt to avoid the gunfire and seek shelter, he slammed into a tree and the cruiser burst into flames.

Shortly after, the Millis Police Department admitted that Johnson lied and that he fired his own weapon at his cruiser "as a plan to concoct a story that he was fired upon." Johnson was terminated and subsequently charged with multiple felonies. 

Officer David Houser

In October, David Houser from the England, Arkansas police department turned himself in after admitting to fabricating a shooting during a routine traffic stop. Local media initially reported the following:

Investigators said when Houser approached the driver's door, the driver pointed a .40 caliber semi-automatic handgun out of the window at him. Houser reportedly shoved the gun away from him, but was hit across the chest when the suspect fired the first round.

Houser described his supposed shooter as a "Hispanic man with little to no hair." Houser was arrested as a result of his lies, but England police are still openly supporting him. THV11 quoted his former boss:

"Even though I'm not his chief anymore, I've told him that I'm going to be his friend, as well as the officers that worked with him. We're not planning on turning our back on David. David's a human being and our job is to assist people and be there for people."

Officer Charles Gliniewicz

The next fabricated incident, which occurred last week, involved the carefully planned suicide of Lt. Charles Gliniewicz, who was found dead on September 1st. Police conducted a manhunt for his supposed killers. The Chicago Tribune reported:

Gliniewicz, 52, was on routine patrol around 8 a.m. when he radioed that he was responding to suspicious activity, according to the Lake County Sheriff's Office. He started a foot pursuit, but no one heard from him after that, authorities said. His colleagues responded and found him shot in a marshy area near U.S. Highway 12, a main road through town, authorities said. His gun was found near him, said Lake County Undersheriff Raymond Rose. Gliniewicz died at the scene, Rose said.

On November 4th, Fox Lake Police admitted that Gliniewicz had actually killed himself, likely to avoid prosecution for multiple crimes he committed, including embezzlement and money laundering from the department.

Reactionary pro-cop protesters used his death as an excuse to hold "Police Lives Matter" protests in a clear effort to implicate Black Lives Matter protesters in the death of the officer.