The UN and NGOs have been working on developing cheap modular housing for disaster victims for about 10 years now. A lot of different approaches have been tried, including completely modular "flat pack" style houses which are easily shipped in containers cost as little as $4000 – $30,000 depending on size and amenities, as well as using the containers themselves as housing. Containers were particularly attractive, due to the low cost of a 40′ container, which used, is typically between $1500 and $4000 depending on type and condition. There are literally millions of these containers sitting in storage yards, as they typically are only used once. Indeed, there is a burgeoning market in the US and overseas selling kits, complete with tools and components to DIY for under $20k.
The Rev in this article could probably have done better with a flat pack. This very basic model is $4,000, and this gorgeous one $8,000. Noticing that all of the Rev's houses are set on trailer frames (which are expensive), I am going to guess the local zoning laws prohibit actually setting the house on the ground, considering them permanent.
In other parts of the world, like London, and in Slovakia – this concept is being introduced to the urban environment.
Seems to me that stripping this concept down into something useable by the urban/suburban homeless could result in a shelter designed for a 7-10 year lifecycle, with a toilet, and electrical connection for heat for something in the $3,000-$4000 range. Making the annual cost of housing about $300-400 a year. Which seems to me cheaper than running a shelter (feel free to correct me if I am wrong). It doesn't eliminate the need for food and water, nor would the basic model be useable by families (a somewhat larger model?). There are a lot of "cracks and crevices" in most cities (open ground) where clusters of 5 or 10 of these could be placed. Clustering also adds to security for the homeless.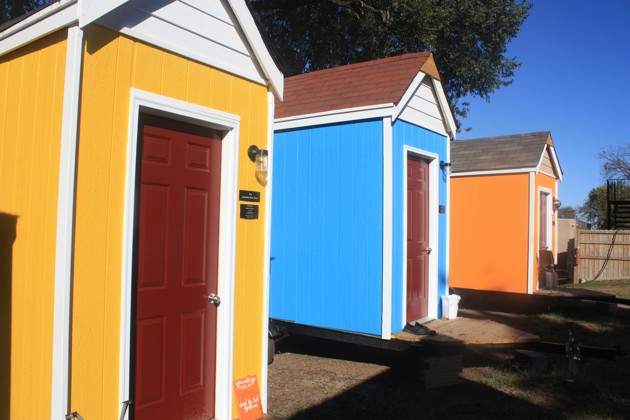 One Nashville pastor has a plan to help those without permanent shelter: building 60-square-foot houses with no bathroom, kitchen, or electricity.
ASHVILLE—Around the time that Vanderbilt University released the results of a large-scale study outlining the most effective solutions to homelessness, Pastor Jeff Obafemi Carr was moving into a 60-square-foot house with no bathroom, kitchen, or even a sink. Carr's idea was to temporarily leave behind his wife and five kids to live in the tiny house, which looks like a tool shed, to raise $50,000 to build more such homes for the homeless.

After two months living in the home, Carr had raised $66,967—enough to build six. The buildings are now set up, on wheels, in the backyard of the Green Street Church on Nashville's east side, part of a sanctuary that also houses homeless people living in tents who moved from an encampment in one of Nashville's parks that recently closed.

The homes are brightly painted yellow, blue, orange, and purple, with red doors and white trim. They cost about $7,000 each to build, and measure 5-by-12 on the inside. Residents use bathrooms in the church, and shower outside with a hose. They eat donated food and drink coffee set up under a tent in the yard.

Peter Regan lives in one of the homes. He hangs his jacket on a bar above his bed, and folds his clothes in tiny cube containers at the foot of it. Batteries power a fan in the window, and many days, he'll sit on a camping chair on his front porch and talk to his neighbors, other people without permanent homes.

"It's a lot better than living in a tent, and if you've got some Yankee ingenuity in you, you can figure stuff out," he told me from his porch, gesturing to the jury-rigged lights he's set up (the homes are not yet connected to a power grid or generator).

Tiny homes for the homeless may not be the solution policy wonks dream of. Indeed, the Vanderbilt study found that housing-choice vouchers, which allow families to live in market-rate apartments, are among the best solutions for homelessness. But in many booming cities, including Nashville, where rents are rising and vouchers can be hard to come by, and there's little city money for anti-homelessness programming, short-term solutions such as Carr's may make sense. Regan, for instance, says he's been on the waitlist for a Section 8 voucher for months.

"This model provides a stepping stone to homefulness," Carr told me. "If you set the goal as homefulness, you have to think, 'How do we get to that?' So many times, people think they have to get a Ph.D. so they can get grant money to do a study to find out that the number-one thing to do to fight homelessness is to give someone a home."

This DIY model to solving social problems is common in Nashville, a Bible Belt city where faith-based organizations play an especially important role in anti-poverty programs. Just consider where these homes are set up: the backyard of the Green Street Church, which welcomed in tents and tiny houses once homeless people were evicted from Fort Negley, a city park. "Sanctuary," a sign reads on the fence surrounding the lot, the "T" in the word designed to double as a cross…The Rest Here…